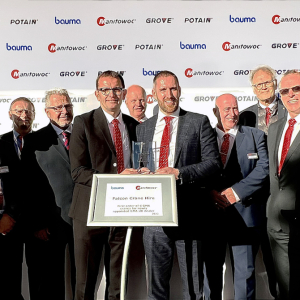 At bauma 2022, Falcon announced that we will be the new UK dealer for Potain self-erecting cranes. We also confirmed an order for six cranes as part of the new arrangement. The company will receive two Potain Igo 50 models, a Potain Hup 40-30, and three Potain Igo T 85 A cranes.
Falcon is the largest tower crane rental company in the UK, with a fleet of 450 units. The company is taking on the UK dealership of Potain self-erecting cranes as we continue to develop our sales and market share.
"We're receiving more and more enquiries from our UK customers for sales in addition to our ongoing rental agreements," said Andrew Brown, managing director of Falcon. "We're delighted to take on this new role as the UK dealer for Potain self-erecting cranes and we see a lot of potential for the product in the UK, with strong scope for growth as we expand our rental fleet and market the cranes for sale."
Falcon will handle sales and support services for Potain self-erecting cranes from our base in Shipdham, Norfolk.