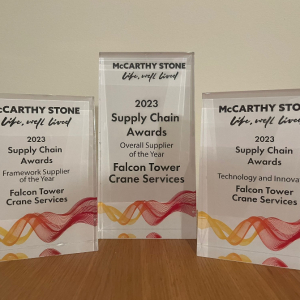 We are thrilled to share that Falcon Tower Cranes Services attended the prestigious McCarthy Stone Awards night and emerged as big winners, clinching not one, not two, but THREE incredible awards! 

Framework Supplier of the Year: We are proud to be recognised for our consistent excellence and commitment in supporting McCarthy Stone's vision.
Overall Supplier of the Year: This award is a testament to our unwavering dedication to providing top-tier service and solutions.

Technology and Innovation: At Falcon, we have always strived to push the boundaries of technology and innovation, and this award acknowledges our commitment to staying at the forefront of the industry.

We want to extend our heartfelt thanks to McCarthy Stone for this fantastic recognition. These awards motivate us to keep pushing the envelope, providing the best services, and driving innovation in the world of tower cranes.

Here's to many more milestones and successes!